It is the Mission of the Yorkshire Garland Group to make Yorkshire's Folk Song Heritage as widely and as readily available to the General Public as current technology and copyright considerations permit, and at no charge.
Song database
Over 120 songs (so far!) native to or sung for generations in Yorkshire, to play and download for free. Also explore their history, lyrics, scores and much more.
What's new on our website?
The workings of our website have had an overhaul and the layout whilst at a glance shouldn't look any different, should now respond better on smaller screens. We're also in the process of preparing funding bids for more education work - details of which will appear on the website as work progresses.
We're always looking for more people to get involved - if you're looking to run education projects in Yorkshire with a local theme then we may be able to support funding bids. We're often asked for local performers specialising in local songs and/or with local themes. As a not for profit group we're also always looking for sources of funding and donations to support the workings of the group. If you're able to help with time, support or knowledge then please contact us or if you wish to make a donation then this can now be done through Paypal. Cash and cheque donations are always welcome too!
The Yorkshire Garland Group Committee and some of our Volunteers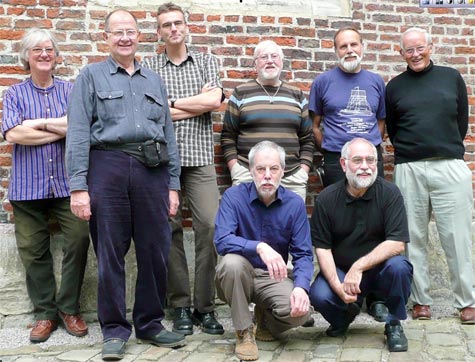 Standing left to right: Bill Sowerby, John Greaves, Mark Ellison and Jim Potter (Volunteers);. Steve Gardham (Chairman), Mike Parsey (Secretary). Kneeling: Ray Black (Publicity), Ray Padgett (Treasurer).
Current List of Active Members
Steve Gardham, Chair, performer, project leader, provenances
Ray Padgett, Treasurer, performer, project leader, volunteers co-ordinator
Ray Black, Publicity, performer, desk-top publishing, score arranger
Mary Garrison, Secretary, funding
Bill Sowerby, performer, musical transcriber
Michael Jary, Webmaster.
Ann Berriman, project leader
Paul and Liz Davenport, performers, project leaders, graphic design
Mark Ellison, performer, key words and genres
John Greaves, performer, project leader
Bryony Griffiths, performer, project leader
Tony Morris, performer, project leader
Jim Potter, performer, workshop leader
John Wainwright, Interactive Map project leader.
Alma Wright, performer, project leader.
Plus numerous other performers and advisors who occasionally contribute and perform on the many recordings.
We thank the Heritage Lottery Fund and the Local Heritage Initiative for their support.